🎵 Rock-Ola 436: Introduction
I've recently had the chance to purchase a Rock-Ola 436 Centura jukebox as a repair project. It's my intention to bring it back in working order and clean it up to a more presentable state. This will be a very educationial journey!

The Rock-Ola Company
Rock-Ola Mfg Crp was a coin-operated manufacturing company founded in 1927 by the brothers Rockola. At first the company produced coin-operated entertainment machines but was facing quite some challenges due to the Prohibition.
After the repeal of Prohibition in 1932, the company expanded its amusement business futher into coin operated phonographs. These jukeboxes found their way into many bars which were now again legalized.
During World War 2, most manufacturing companies were repurposed towards the war efforts. Rock-Ola was one of the primary contractors for the M1 carbine, a staple rifle in both World War 2, the Korean and Vietnam War.
After the war, the invention of the 45rpm seven inch single record overhauled the jukebox industry into how we know it today. During this golden era of the jukebox, Rock-Ola invented some well known jukebox models, such as the Princess, Tempo and Empress. At its time, it was a very competitive player in the market, who is known for many innovations, one of which was the miniaturization so it could be mounted on a wall.
Though the company sold out to Antique Apparatus, it is still producing CD-jukeboxes to this day, mostly with the classic Bubbler design.
Rock-Ola 436 Centura Jukebox
In the mid 60's, the playing mechanisms started to disappear from view and were moved deeper into the guts of the machine.
Around 1967 Rock-Ola created the Centura (436) and Ultra (437) jukeboxes. Here, the playing mechanism was not yet completely hidden, but still visible through a small viewing window below the title cards.
It's bigger brother, the Ultra, has 80 records whereas the Centura's carousel holds only 50 singles giving respectively 160 and 100 selections.
Designed For Repairability
Luckily for us, these devices hail from a time where repairability was still very much an integral part of Rock-ola's business model. As the manufacturing company was situated in Chicago, the company granted licenses to local distributors who were also able to offer its customer base a repair service.
These distributors were given well documented service repair manuals explaining all intricacies of each specific model. They describe in detail how to adjust the various mechanisms and provide schematics explaining the work cycle from credit insertion, through playing a record until storing the record back into the carousel.
Though Rock-Ola does not offer any service manuals anymore on any models before the 90's, there are a lot of places where you are still able to purchase a PDF, reproduction or original service manual for any pre-90's jukebox.
Current State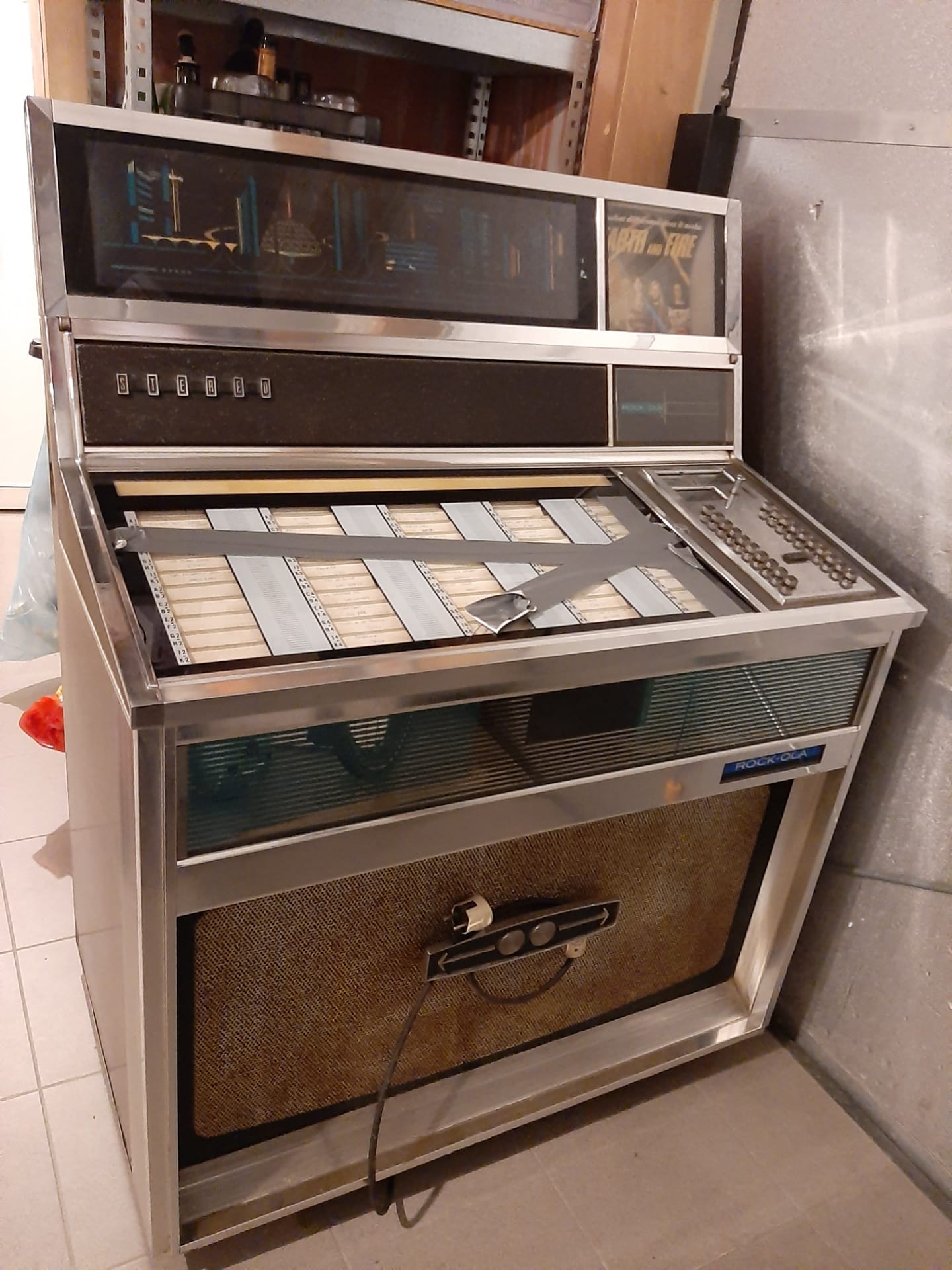 Let's take stock of what are the main issues we currently know about which should be tackled:
Power supply has blown fuses.
Fluorescent light have become blackened
Title card glass fractured
Credit card glass fractured
Cabinet smells like a chain smoker :)
Apart from this we don't know if the credit accumulator, write-in, selection and play mechanisms work at all. These all need to be tested and all mechanisms will need new oil.
This is a large interconnected system with (literally) a lot of moving parts. As always, we'll start our journey at the power supply… Stay tuned!
References