⬛ Digital Black: Desk Accessory
I bought a couple of Digital Blacks to put in my house. It's a nice device made by niko.eu which can replace 12 switches by a single touch screen of the same dimensions of a regular switch.
These devices are to be installed in the wall like a switch, but given the form factor I reckoned it could make a nice desk device. This was also the perfect opportunity to learn a bit more about creating freeform models in Fusion 360.
The idea was to channel a Mid-Century Modern style, characterized by clean lines, gentle organic curves and minimal details. I quickly had an idea what form it should take: The square Digital Black should naturally flow to a rounded rear. By slightly slanting it upwards the screen is positioned into a better viewing angle. Finally it rests on a large round base to give it a sturdy appearance.
Specifications:
Screw hole diameter: 3.2mm. Used for inserting M3 metal internal screws
Prototyping
Getting the look down was pretty straight forward, but nailing the marriage between Digital Black and the desk accessory proved to be quite the challenge. My lack of formal mechanical engineering training did not help either ;-)
The prototypes listed below document the trial and error process of creating an acceptable version. They contain two references: the fusion360 version file (v<XX>) and the prototype numbering (P<XX>). These are available for download below.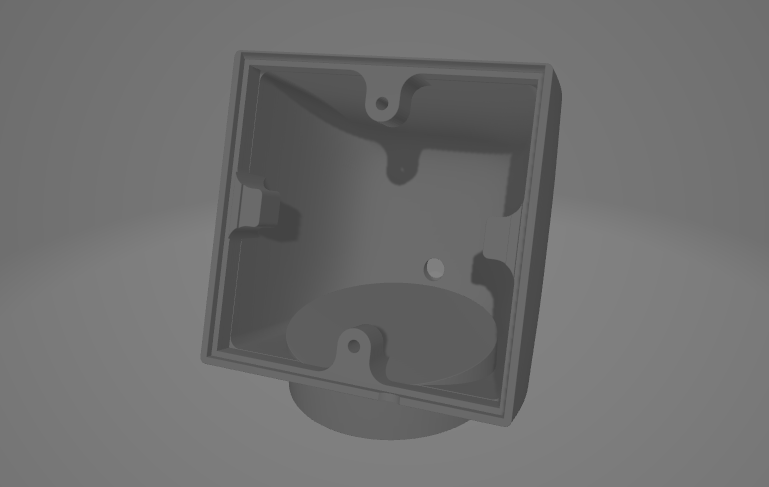 Changelog:
Redesign side brackes to not hinder metal bracket and backpack installation.
Review Notes: TBD. Awaiting print.
---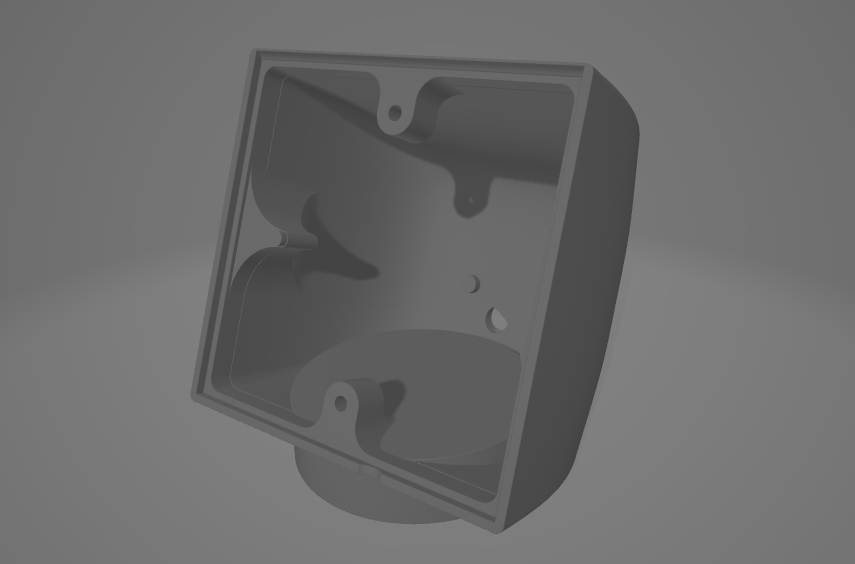 Changelog:
Improve top clearance to more easily accept hinge hooking of Digital Black on metal bracket.
Add side brackets for additional support for the metal mounting frame.
Move cable thru hole upwards so cable does not push housing upwards when put on a table
Increase thru hole diameter to more easily accept default computer PSU cable.
Review Notes:
Side brackets created a too narrow passege for the Digital Back backpack. Different design should be created.
Bottom thread was destroyed when inserting and was misaligned. Added care when inserting should be taken.
---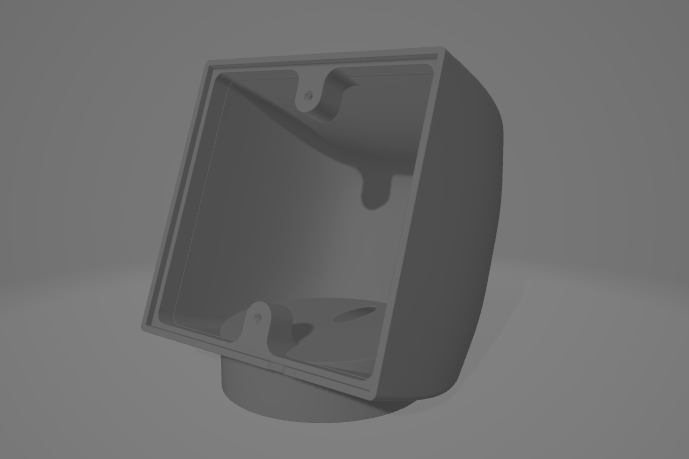 Review Notes:
Dimensions between Digital Black and Housing are good! YES!
Metal bracket is only mounted top and bottom resulting in horizontal wobble.
When installing, DB is hooked on top hinges and then hinges into final position. Not enough clearance on the top to allow correct hooking.
Cable thru hole too small.
Cable thru hole placed to low; a sturdy electrical cable will push the rear of the device upwards/
Acknowledgements
I do not (yet) own a 3D printer. Special thanks go to Klaas Dellaert for acting as printing and printing advice. By the way, together with his girlfriend, they own a craft brewery. Check them out at Totem Brewery!